2019 CHES Celebration of Scholarship
The Centre for Health Education Scholarship will host the CHES Celebration of Scholarship on Wednesday, October 2, at The University of British Columbia's Robert H. Lee Alumni Centre. This event is an opportunity for the CHES community to showcase and share their work and celebrate the accomplishments of the health professions education scholarship network.




Event Schedule:
| ACTIVITY | START TIME | END TIME |
| --- | --- | --- |
| Registration | 07:30 | |
| Morning Round Table Discussions | 08:00 | 09:00 |
| Welcome Address: Dr. Ian Scott | 09:00 | 09:15 |
| Gordon Page Invited Lecture: Dr. Erik Driessen | 09:15 | 10:15 |
| Coffee Break | 10:15 | 10:30 |
| Oral Presentations Session 1 | 10:30 | 11:30 |
| Lunch & Poster Session | 11:30 | 12:45 |
| Oral Presentations Session 2 | 12:45 | 13:45 |
| Coffee Break | 13:45 | 14:00 |
| Oral Presentations Session 3 | 14:00 | 15:00 |
| Closing Plenary: Drs. Gary Poole & Dan Pratt | 15:15 | 15:45 |
| Acknowledgements, Wine & Cheese Reception | 15:45 | 17:00 |
*Please note there will be refreshments provided throughout the day

Gordon Page Invited Lecturer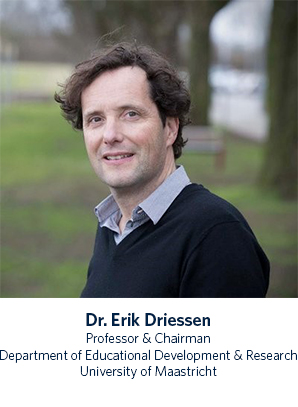 Biography
Erik Driessen holds a master degree in educational science and a PhD in medical education. He is Professor in Medical Education and Chair of the Department of Educational Development and Research at the Faculty of Health, Medicine and Life Sciences of Maastricht University. He is also Editor in Chief For the journal Perspectives on Medical Education.
Dr. Driessen is interested in topics such as learning and assessment in the workplace, mentoring, and the use of portfolios for learning and assessment. He is also active in exploring the nature of education across different cultures. He mentors PhD students from diverse countries and he participates in a variety of international projects, such as consultancies and research projects in and outside of Europe. He is also a member of the AMEE Research Committee and holds an honorary appointment at the Uniformed Services University of the Health Sciences in the US.
Closing Plenary
Always Growing
Someone who observed Gary's teaching once said, "I can't tell if you are a genius or an idiot." To which Gary replied, "Do I get a vote?"
Funny, yes. But what if that guy was right on both counts? What if we continually shuttle between insight and struggle; genius and idiocy? What if it isn't about what we are, but about where we are going? If this is the case, then our ultimate purpose is growth. Then the test of 'community' is whether it helps us continue growing.
In this closing session, Dan and Gary will explore the notions of what growth and community have meant to them; what they still mean to them; and what they might mean for everyone involved with CHES.