2020 CHES Celebration of Scholarship
The Centre for Health Education Scholarship will host the 10th Annual CHES Celebration of Scholarship virtually on Wednesday, October 7, 2020! Join us as we adapt to the changing environment and bring opportunities for the CHES community to showcase and share their work in a virtual format!
As we move the Celebration of Scholarship virtually, we look forward to offering you the same vibrant programming, impactful networking, and opportunities to reflect and connect over the emerging and prominent topics in our field. This year's program will feature the Gordon Page Invited Lecture with Dr. Sarah de Leeuw and a Closing Plenary with Dr. Tal Jarus and the 'Alone in the Ring' Team.
Two Oral Presentation Sessions will also be offered this year, each with four parallel sessions. The virtual Poster Presentations will begin with One-Minute Wonders where presenters will each have one-minute to 'advertise' their poster, before moving into an asynchronous Virtual Poster Showcase. All posters will be uploaded here, and attendees will be able to post comments and questions to engage in an 'online conversation' with other attendees and the presenters themselves.
For a full program and schedule of sessions, please click here.
Abstracts for the Oral and Poster Presentation Sessions:
Oral Session 1A
Oral Session 1B
Oral Session 1C
Oral Session 1D
Oral Session 2A
Oral Session 2B
Oral Session 2C
Oral Session 2D
Poster Presentations
Plenary Speakers
Unsettling: A Critical Intervention into Humanism and the Humanities in Medical Education and Scholarship
Abstract: In August 2019, Dr. George E. Thibault published an invited commentary in the journal Academic Medicine. Thibault's commentary provides an entry point into what I argue are important gaps in current conversations about humanism and humanities in medical education and scholarship. Reflecting on this paper, then, I suggest an urgent need for analysis about who is being conjured when humanism and humanities are evoked as needed antidotes to dehumanizing or overly biomedically scientific trends in medicine. Thibault is a prestigious clinician and scholar, with a biography that includes being a past president of the Josiah Macy Jr. Foundation in New York and a Daniel D. Federman Professor Emeritus of Medicine and Medical Education with Harvard University's Medical School. Thibault's commentary, "Humanism in Medicine: What Does It Mean and Why Is It More Important Than Ever?" is an impassioned plea for medical practice and medical education to re-centre, to embrace and support, systems or modes of thought and action in which human interests, values and dignity predominate. An important part of this predomination, suggests Thibault, is the deployment of humanities disciplines (arts, literature, philosophy) to inform medical professionals' orientations to patients, to each other, and to the world. Practices like self-reflection and reflective writing, both anchored in the humanities, are offered by Thibault as tangible ways of injecting humanism into medicine. While on first read, Thibault provides a lucid and important argument, a critical assessment of the scholarship reveals two important things; no women are referenced or quoted in the paper, and there is no reference (with regard to the concept of humanism) to human positionalities or social constructions of the human subject. These glaring omissions are emblematic of broader challenges in medicine's re/turn to humanities and humanism. By turning to feminist, anti-colonial, and Indigenous artists, scholars and activists, I suggest that medical scholarship and education can only do justice to humanism and humanities if the very foundations of what is meant by human are radically reconfigured and ultimately unsettled.
Biography: An award-winning researcher and creative writer whose work focuses broadly on marginalized peoples and geographies, Sarah de Leeuw grew up and has spent most of her life in Northern British Columbia, including Haida Gwaii and Terrace. She holds a Canada Research Chair (Humanities and Health Inequities), is the Research Director of the Health Arts Research Centre and teaches in the areas of Indigenous peoples well-being and health humanities. Recognizing the reach of her interdisciplinary scholarship, in 2017 she was appointed to the Royal Society of Canada's College of New Scholars, Artists and Scientists.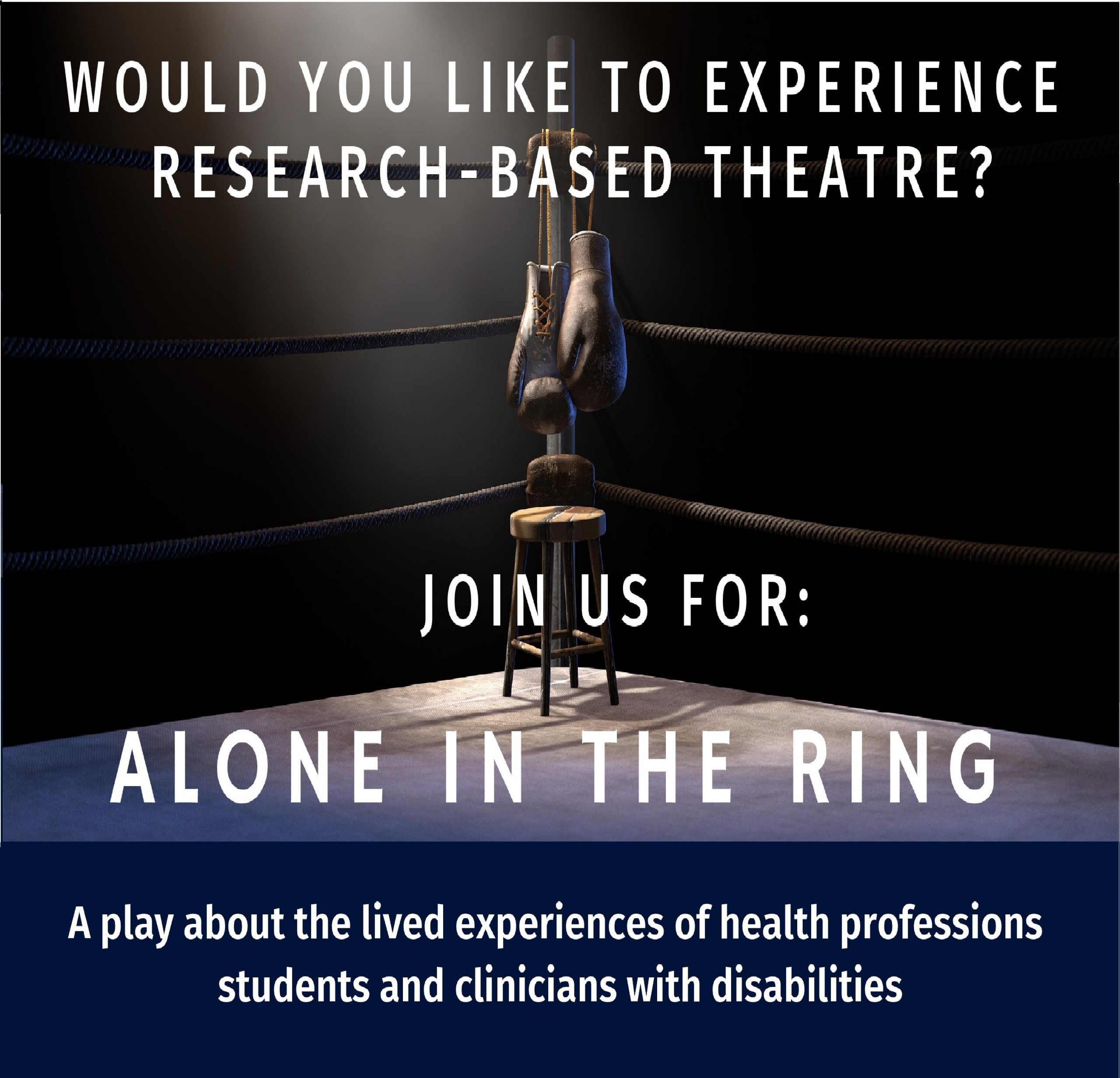 Alone in the Ring
Dr. Tal Jarus and her interdisciplinary research team have been using research-based theatre, a novel framework for creating and sharing knowledge, in order to share the findings from a study investigating the barriers students and clinicians with disabilities in health and human service professions experience. The ultimate goal is to increase equity, diversity, and inclusion in the health and human service professions and education. They have presented their play Alone in the Ring, which portrays the isolating experiences of clinicians with disabilities employed in those professions ten times to over 800 audience members in a variety of settings, including the Peter Wall Institute for Advanced Studies, Rehabilitation Sciences Research Day, and CAOT-BC's Connect Day. Audience members have consistently praised the play's visceral impact, stating that it has changed their perspectives, asking what their role can be in creating change, and reiterating the need for further dialogue. Each performance is followed with a discussion at which Dr. Jarus and her team invite the audience to join the novel Inclusive Space Network to receive further updates on this important work. If you also want to join the network, you can reach them at inclusive.space@ubc.ca.

The University of British Columbia Division of Continuing Professional Development (UBC CPD) is fully accredited by the Committee on Accreditation of Continuing Medical Education (CACME) to provide study credits for continuing medical education for physicians. This event is an Accredited Group Learning Activity (Section 1) as defined by the Maintenance of Certification Program of the Royal College of Physicians and Surgeons of Canada, and has been approved by UBC CPD for up to 4.75 MOC Section 1 Group Learning credits. This program meets the certification criteria of the College of Family Physicians of Canada and has been certified by UBC CPD for up to 4.75 Mainpro+ Group Learning credits. Each physician should claim only those credits accrued through participation in the activity. CFPC Session ID#: 192938-001.
---
We would like to thank everyone for making the 2020 CHES Celebration of Scholarship a success and helping us celebrate the accomplishments of the health professions education network!