Joanna Bates, CHES' founding Director was the recipient of the 2019 Ian McWhinney Award. Ian Scott accepted the award on her behalf.
---
CHES Associate Director and Senior Scientist, Kevin Eva was awarded the 2020 CAME-ACEM Ian Hart Award.
---
CHES Scientist, Laura Nimmon has recently been appointed as an Associate Editor for Perspectives on Medical Education, as well as the section editor for Qualitative Space. Laura was also the recipient of the 2020 CAME-ACEM Early Career Medical Educators Champion Award.
---
CHES Clinical Educator Fellow Alumnus, Heather Buckley has been appointed Portfolio Pillar Lead, Student Assessment Unit, Undergraduate Medical Education. Heather has also been the recipient of two prestigious awards recently, the inaugural 2019 Dr. Richard Wadge Teaching Award and the 2020 AFMC Award for Outstanding Contribution to Faculty Development in Canada.
---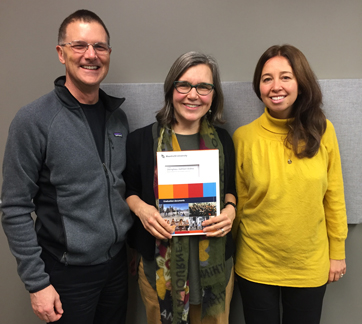 Kathleen Dalinghaus has successfully presented her thesis on 'Exploring Power Relationships: Urban Nurse-Doctor-Dyad Debriefing of a Simulated Crisis in a Rural Operating Room', and has now received her Master of Health Professions Education.
---
Cynthia Min successfully defended her PhD titled 'First-Year Medical Students' Perceptions of Objective Structured Clinical Examinations' Contributions to Learning'. Cynthia is in the MD/PhD program and completed her PhD through the Cross Faculty Inquiry in Education Program.
---
Senior Scientist, Gary Poole, CHES Member, Isabeau Iqbal, and Roselynn Verwood were the winners of the International Journal for Academic Development 2019 Article of the Year Award, for their article 'Small Significant Networks as Birds of a Feather'.
---
CHES Fellow alumnus, Paris-Ann Ingledew, has been nominated as a CFMS Champion for her contribution to a positive learning environment at UBC.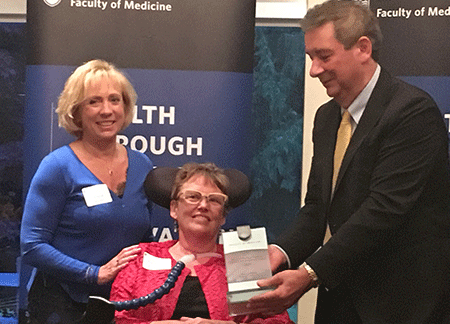 Joanna Bates, CHES' founding Director and Senior Scientist is the recipient of the 2019 Faculty of Medicine Bill and Marilyn Webber Lifetime Achievement Award, to acknowledge her significant contributions within the faculty.
---
Sevinj Asgarova, Research Coordinator at CHES, has successfully defended her thesis, Mothers' experiences of continuing their pregnancy after prenatally receiving a diagnosis of Down Sydrome and has now completed her PhD.
---
CHES Scholar and Clinical Educator Fellow Alumnus, Maria Hubinette has been appointed as the Assistant Dean, Equity, Diversity and Inclusion within the Faculty of Medicine.
---
Rose Hatala, Director of the Clinical Educator Fellowship Program, Co-coordinator of MHPE-Canada and CHES Scholar has been awarded the 2019 Medical Council of Canada Outstanding Achievement Award in the Evaluation of Clinical Competence. Read more.
---
CHES Member Ali Walzak is the recipient of the Clinical Faculty Award for Excellence in Clinical Teaching.
---
CHES Member Geoffry Blair is the recipient of the Provan Award for Surgical Teaching.
---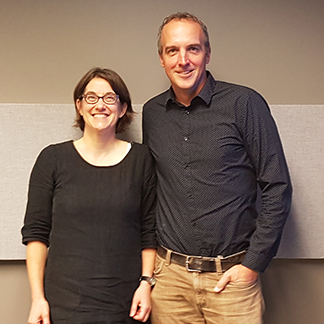 Teresa Green is the latest graduate of the Masters of Health Professions Education Program from the CHES site.
This quarter we had a bumper crop of graduates from our Clinical Educator Fellowship and MHPE-Canada Programs.
At the end of June, we were excited to celebrate our latest group of graduates as we bid a fond farewell (but not goodbye) to Heather Buckley, Tristen Gilchrist, Katie Ng, Farhana Shariff and Jennifer Tam! This brings the total number of CEF graduates to over 25. The Clinical Educator Fellowship Program is designed for individuals who are interested in developing an academic career as a Clinical Educator, have a desire to engage in and disseminate educational scholarship, and wish to engage in educational leadership. We are incredibly proud to share that alumni of the Clinical Educator Fellowship Program are not only contributing to the better training of health care professionals, but progressing rapidly into educational leadership positions here at UBC and beyond. Get more information about the CEF Program and see our current fellows and alumni.
CHES is also a host site for the Master of Health Professions Education from the School of Health Professions Education at Maastricht University, with successful applicants receiving thesis supervision and mentorship from CHES faculty. We are pleased to announce that this quarter we had a record breaking five students present their capstone thesis talk to complete the Master's of Health Professions Education degree. Congratulations to Jonathan Misskey, Julianna Caon, Samantha Stasiuk, Farhana Shariff and Jennifer Tam for completing this capstone requirement of the degree. Additionally, we are excited to announce that both Heather Buckley and Nawaaz Nathoo will be presenting their theses at the end of August! To learn more about the MHPE-Canada program please click here.
To help us celebrate the success of our recent graduates, please join us for a reception on Wednesday, September 18 from 11:00am to noon at UBC Vancouver - Life Sciences Centre, room 1312 CMR. Please note the reception will be held prior to the inaugural Joanna Bates Lectureship: Special Edition of CHES Research Rounds
---
Visiting Scholar Maria Elvén has successfully defended her thesis, Clinical Reasoning Focused on Clients' Behaviour Change in Physiotherapy. Development and Evaluation of the Reasoning for Change Instrument. Maria attributes her time at CHES to the development of her research and her dissertation.
---
CHES' first PhD student, Robin Hopkins is the 2019 recipient of the A.J. Ersted Award for Specialized Pedagogy in Undergraduate Anatomy & Physiology.
---
We are pleased to welcome Laura Farrell as a CHES Scholar. Dr. Farrell is Assistant Dean Undergraduate Education for the Island Medical Program (IMP) and a Clinical Associate Professor in the Department of Medicine.