This is an installment of our Scholar in Highlight series, in which we feature a CHES scholar and their impact in their areas of research and innovation. In doing so, we hope to help propagate ideas throughout the community and provide a mechanism by which CHES members may identify opportunities for collaboration and expertise sharing.
This issue focuses on Dr. Cary Cuncic, a General Internist in the Department of Medicine and a graduate of CHES' Clinical Educator Fellowship program with her Masters of Medical Education at the University of Dundee. Dr. Cuncic completed her undergraduate MD at McMaster University and completed an internal medicine residency at UBC. Dr. Cuncic's administrative roles have included Undergraduate Internal Medicine Site Lead, Associate Director of the Internal Medicine Residency Programme, and Clerkship Director for Undergraduate Internal Medicine. She is currently the Associate Curriculum Director for the MD Undergraduate Programme, focusing on years 3 and 4.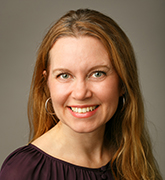 ---
What is your favorite part of the educational process? What keeps you inspired?
My most inspiring moments in my administrative roles came from my work as Associate Programme Director of the Internal Medicine Residency Programme. For 3 years I was responsible for designing, implementing and assessing all of the remediation for 150 residents. I am amazed at the resilience of struggling learners. At times their journey seemed overwhelming, but they persevered and ended up being very successful in the programme. Reflecting on their growth and achievements continues to inspire me today. With competency by design, we are focusing on competencies rather than time, and I am hoping that we can de-stigmatize the fact that some learners simply need more time and support to achieve their competencies. I currently reserve time in my clinic specifically for struggling learners and have taken second year medical students all the way to senior residents. I act as a Remediation Supervisor and am on a team with a mission to increase the flexibility of year 3 to allow remediation time for learners who need the extra time but do not necessarily need to repeat the entire year.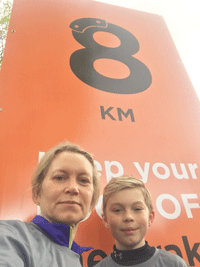 What has been your biggest challenge?
The biggest challenge I have is managing my schedule! I have competing administrative, teaching, clinical, research and personal schedules that all need to be amalgamated. For example I had to bake a cake for the school carnival "cake walk" the evening we had our big UGME retreat dinner (I baked it the weekend before and froze it … my mentor Joanna Bates has always advised me to simply buy a cake – but Joanna I could not in this case because every year I bake "the cake with the gummy bears and M&Ms"). It is inevitable that something falls apart from time to time. My goal has been to increase the intervals between those times… a work in progress. My colleagues in my division have been incredible. We all understand the complexities of the chaos of juggling and we step in to help each other all of the time. As my friend Craig says, "when you have the wrong day for a meeting, it actually doesn't matter that you have the wrong time as well".
What was your first research project about?
My previous research looked at a unique feedback model and we discovered that two conditions facilitated effective feedback: the teacher and learner were engaged in a longitudinal supportive relationship, and feedback was divorced from summative assessment. Building on this, I was involved in launching a coaching programme for the first year internal medicine residents: the design, the recruitment and training of coaches. Through this, we are supporting the residents to be self-regulated learners and the hope is for them to co-create learning goals with their coaches. One of my current research endeavours is to examine how this can best happen and how we can best support our coaches in this role. As Associate Director of Curriculum, I am launching a modified version of this aimed at fourth year medical students.
What do you like to do outside work?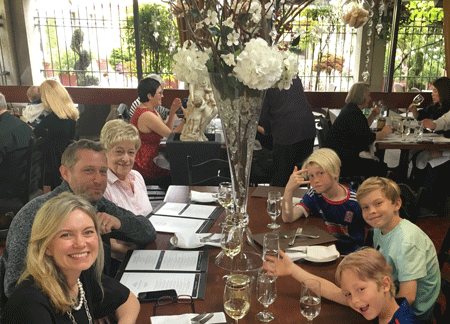 My personal life is hectic, noisy and busy. I have three energetic ("spirited") boys, a dog (Newfoundlander) and a kitten. Someone is always asking me for something, someone is always hungry, someone is always running down the hall, screaming or barking. Someone always needs a bath (and no one wants to take one … well maybe the dog is OK with it). But my kids won't be living with me forever so I focus on enjoying every minute. I like to go out with my husband and friends for good food and good wine. My husband and I like listening to jazz and will try to seek out live bands when we can. I like to read and am still in the same book club I was before I had kids. I try to stay active with my children and we ski, hike, run (my oldest and I do the Sun Run together every year) and bike.