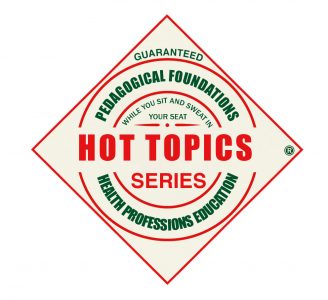 A seminar series for educational leaders and those who teach, Hot Topics in Health Professions Education sessions were designed to provide attendees educational foundations in: pedagogical evidence, areas of controversy, and emerging ideas in health professions education.
Please note this seminar series is now on hiatus for 2020. However, recordings of the previous presentations listed below can be accessed by CHES Members via the Members' Resources area.

Date
Speaker
Topic/Title
November 26, 2019
Ian Scott
The Science of Teaching and Learning in the Digital Age: Digital Natives, Digital Immigrants, Digital Refugees

September 24, 2019
Deborah Butler
Why do we Teach like we Teach? Revealing Learning Theories at Work
May 28, 2019
Ian Scott
Clinical Decision Making: Turning the Illogical to the Logical (or the Logical to…)
February 26, 2019
Kevin Eva
Improvisational Theatre: Why Facilitating Performance Improvement Through Feedback Requires Going Off Script
January 22, 2019
Cheryl Holmes
Reflecting on What? The Difficulty of Noticing Formative Experiences in the Moment
November 27, 2018
Sandra Jarvis-Selinger, Maria Hubinette & Kimberley MacNeil
We are who we are: So who are we? Musings on professional identity formation

September 25, 2018
Glenn Regehr
Failure to Fail: Exploring the Complexities of Clinical Assessment
May 22, 2018
Ian Scott
Should we be Flipping Over the Flipped Classroom?

March 6, 2018
Ian Scott & Kevin Eva
What's Hot Enough to be a Hot Topic?