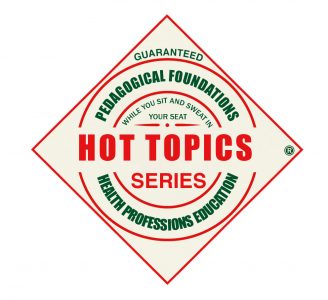 A seminar series for educational leaders and those who teach, the Hot Topics in Health Professions Education sessions are designed to provide attendees educational foundations in: pedagogical evidence, areas of controversy, and emerging ideas in health professions education. Hot Topics in HPE are held on the fourth Tuesday of every other month, from 12:00-1:30pm, with videoconference access to all distributed sites.
Examples of topics may include: theories of learning, identity formation, competency-based curriculum, clinical decision-making, feedback, assessment, and much more!
While these sessions are a component of the Educators Leadership Program (ELP), the Hot Topics in HPE series is open to CHES members, the health professions education community at UBC, and anyone else who is interested in health professions education.
Learning Objectives:
By the end of the session, participants will be able to:
Describe the foundational elements of teaching and learning that supports this hot topic.
Discuss how this hot topic has or could be applied to their educational leadership setting/context.
For questions, feedback, topic and/or presenter suggestions, or to request a calendar invite to Hot Topics in Health Professions Education, please contact: ches.communications@ubc.ca.
---