Designing & Implementing the First North American Formative Progress Survey System in Dentistry
Dr. HsingChi von Bergmann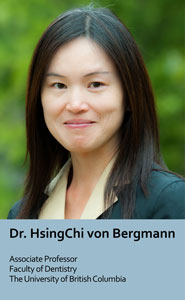 Date: Wednesday, May 16, 2018
Time: 12:00pm to 1:30pm (feel free to bring a bagged lunch)
Locations:
DHCC 2267 (host venue)
IRC 305
RJH CA 120
NHSC 9-374
Remote:
Abstract
Purpose: Progress testing is an innovative and successful formative assessment practice. The paper presents the design and first two years of results of a progress survey system implemented in a dental program.
Methods: Each test form contains 200 multiple-choice-questions (MCQs) to assess cognitive knowledge of dentistry that a competent dentist should have by the end of the program. All dental students are required to complete the test in three hours. In the first three administrations, three test forms with 86 common items were administered to all four-year-DMD students. The total of 383 MCQs spanning nine domains of cognitive knowledge in dentistry were distributed among these three test forms. Each student received a test form different from the previous one in the subsequent two semesters. In the fourth administration, 299 new questions were introduced to create two test forms sharing 101 common questions. Each administration occurred at the beginning of a semester. All students received individualized reports comparing their performance with their class median in each of the domains. Aggregated results from each administration were provided to the faculty.
Results: Based on analyzing students' responses to the common items between the first two administrations, progression in all domains was observed. Comparing equated results across the four administrations also shows progress.
Conclusions: Introducing a comprehensive formative assessment system to competency-based professional schools has many merits. This is the first time in North America a dental school has introduced progress testing. Challenges' and lessons learned with this assessment will be discussed.
Biography
Professor HsingChi von Bergmann joined the UBC Faculty of Dentistry in September 2010 to: (1) conduct and mentor educational research activities in the Faculty; (2) design modules and professional development activities to enhance teaching capacity and educational experiences for students in the Faculty. Prior to UBC, Dr. von Bergmann was an Associate Professor at the Faculty of Education at the
University of Calgary, where she was in charge of designing a secondary science teacher preparation program, and where she also served as a consultant to enhance science teaching and learning in the Faculty of Sciences. During her previous international comparative study (TIMSS) research experience at the US National Research Center at Michigan State University College of Education, she had the opportunity to work with educational leaders in 21 States (ACHIEVE Project), representatives from the high-tech industries, and instructional leaders in various US school districts (First in the World Project), and various important scientists, of whom some are Nobel Laureates. HsingChi understands the importance of merging subject matter knowledge with critical teacher knowledge in teaching and learning. She has been publishing widely in education journals, and consistently in the Journal of Dental Education. She also coauthored a book on 48 countries' comparative education, which derived from her work with TIMSS. Dr. von Bergmann is the new recipient of 2016 ADEA/ADEA Gies Foundation Education Fellowship.

Accreditation:
The University of British Columbia Division of Continuing Professional Development (UBC CPD) is fully accredited by the Committee on Accreditation of Continuing Medical Education (CACME) to provide study credits for continuing medical education for physicians. This course has been reviewed and approved by the UBC Division of Continuing Professional Development. This Group Learning course meets the certification criteria of the College of Family Physicians of Canada and has been certified by UBC CPD for up to 1.5 Mainpro+ credits. This course is an Accredited Group Learning Activity eligible for up to 1.5 MOC Section 1 credits as defined by the Maintenance of Certification program of the Royal College of Physicians and Surgeons of Canada. Each physician should claim only those credits he/she actually spent in the activity.